The Steam Mill
This building houses the boiler, beam engine and the hurst (machinery for driving and managing the millstones) the upper floor was the stone floor, but the millstones were probably sold after the fire of 1875.
The roof and windows were damaged in the fire. The roof looks largely intact in a photo from 1951, and it is known from correspondence in our archive that the roof and windows had been repaired before 1973. Further repairs were carried out c 1998, replacing lost tiles. The damage had exposed the interior of the mill to the weather. These caused severe damage to the upper stone floor.
This building may have been the original granary and kiln until the new granary was built in 1844.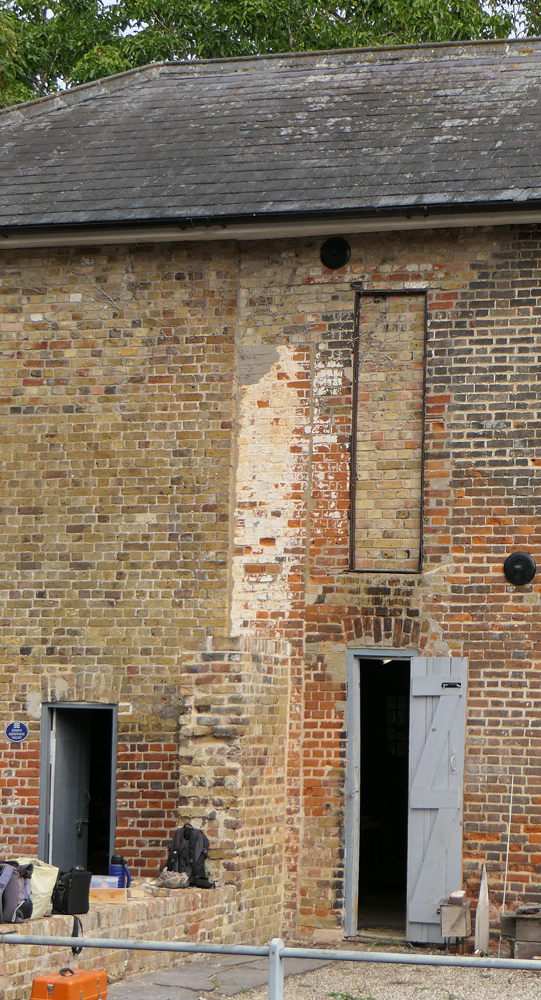 The centre of this picture, between the lower doors, shows the remains of the later granary. This was obviously a substantial wall as can be seen from the lighter brickwork above. The bricked up opening above the narrow door provided communication between the steam mill and the granary.
In 1845 the Essex & Suffolk Equitable Insurance Society – Maldon Agency instruction Book had the following entry –
Pol 22398 Memorandum
There is a steam engine fixed in a brick and slated building adjoining the brick and slated granary adjoining the mill – having internal communication with the granary by means of iron doors.
These iron doors probably helped to protect the steam mill from the fire, but may have been sold in a salvage sale in the September after the fire.
The door to the left of the granary wall is the entry to the engine and boiler room.
When restoration of the mill was first considered there was a problem. The steam mill had been inhabited by bats and as they are a protected species they could not be disturbed. See The Bat Problem to find out how this was overcome.
More details of the different parts of this build can be found on the following pages – The Wentworth Beam Engine, The Elephant Boiler, The Hurst and The Stone Floor.